Maria Claudia "Cloclo" Echavarría has always known the treasures that her native Colombia holds. Though she was educated in Switzerland, has lived in London, and now resides in Milan, Cartagena has remained her family's base. So when the announcement of Echavarría's engagement to Prince Josef-Emanuel of Liechtenstein was made last July, there was little doubt that a very Colombian wedding would be in store. The bride, co-founder of former talent incubator/fashion consultancy Sí Collective, has dedicated herself to raising the profiles of Latin American designers, and her wedding, a weeklong, three-destination affair, was no exception. "It was important to me to keep the team as local as possible, and to be able to truly offer our guests a taste of the best of Colombia," Echavarría says. "Colombians are so proud of our country, and we want people to see and experience everything it has to offer." Here's how the couple celebrated across three cities.
---
Cartagena
Among the first to receive a call: childhood friends and designers Esteban Cortázar and Edgardo Osorio. Cortázar, despite having created many a wedding dress, had never designed one for a wedding in Cartagena. "It's one of the most romantic cities, and it has always inspired me. You're walking down the street and it's like you're in a Gabriel García Márquez novel," says Cortázar, who had the idea of fashioning the dress from antique linens in order to stand up to the Caribbean heat, appeal to the bride's passion for sustainability, and feel sufficiently grand for a royal wedding.
"Cloclo has impeccable taste, but she's also a down-to-earth girl, so I wanted to create something that would command attention," he says. "I envisioned her as the Princess of Cartagena, a mix of both worlds, because she's lived all over the world but she's always been in touch with her roots." The grandeur of the church, the 16th-century Iglesia de San Pedro Claver, called for a long train, which was created in part by joining four enormous, early-1900s curtain panels found in Paris—pushing the bride out of her usual flats and into skyscraping platforms by Osorio, founder of shoe brand Aquazzura. Osorio embellished the pumps with remnants from the dress fabric.
After the ceremony, guests rode chivas (distinctly Colombian open-air buses) through dense crowds hoping to catch a glimpse of the newlyweds as they emerged to the sounds of traditional drummers and dancers, whose white cotton dresses echoed the bride's. The dancers were "totally a surprise to Josef, which shows on his face in many of the photos!" Echavarría says. "Cloclo was absolutely sure she wanted to have the reception at home," says her mother, legendary hostess Evelia "Chiqui" de Echavarría, who started planning last summer. "I said, 'Oh my God, I have to get all the orchids now, so that they'll flower in March.'" Flower they did, complementing the lush garden Chiqui has been cultivating for decades. And when she decided that the space still wasn't quite green enough for her liking? She hired an artist to paint vines on the white walls and ceiling.
After the dinner, catered by Juan Felipe Camacho of restaurant Don Juan, and the cake, a coconut and mamey pie by Cartagena's Pastelería Mila, musicians playing vallenato got the party started, followed by a salsa band and DJ Carlos Mejia. The Echavarrías' parties are legendary, but knowing a full day at the beach awaited them, most of the guests retired before dawn.
---
Barú
Barú, a small island where the Echavarría family has a thatched-roof beach house, feels a world away, making it the ideal spot for guests—including the Grand Duke of Luxembourg and family, handbag designer Carolina Santo Domingo, and Princesses Maria Laura and Luisa of Belgium—to unwind after the previous day's festivities. Echavarría arrived in a hand-crocheted minidress created with costume and set designer Diego Guarnizo (it was decorated with shells at her mother's boutique, Casa Chiqui) and a bikini designed with Cali-based Juan De Dios. "I wanted to highlight artisans and smaller brands that might not be as internationally recognized," Echavarría says. "This has always been central to my work and something I believe in strongly, beyond it being a professional endeavor." Later, she changed into a Gabriela Hearst dress, with Casa Chiqui earrings and a headpiece by her cousin Lucia's brand, Magnetic Midnight.
---
Bogotá
A few days' break before the celebration's wrap-up in Bogotá gave guests ample time to explore Colombia. A country house owned by Echavarría's aunts stood in for an Alpine setting as guests donned tracht (traditional garments of German-speaking countries) and explored a fruit and flower market created by Guarnizo. The Alpine-style table linens—created in collaboration with illustrator Crystal Ochoa, a former Sí Collective director—featured yellow embroidered butterflies, reminiscent of Gabriel García Márquez's symbol of love, hope, and peace. The motif recurred throughout the week, in the invitations and even fluttering around events. "The whole process felt like working with friends," Echavarría says. "From putting together my looks, to developing the graphics and choosing the vendors, it felt like I was tapping into my network of loved ones."
This article appeared in the August 2022 issue of ELLE.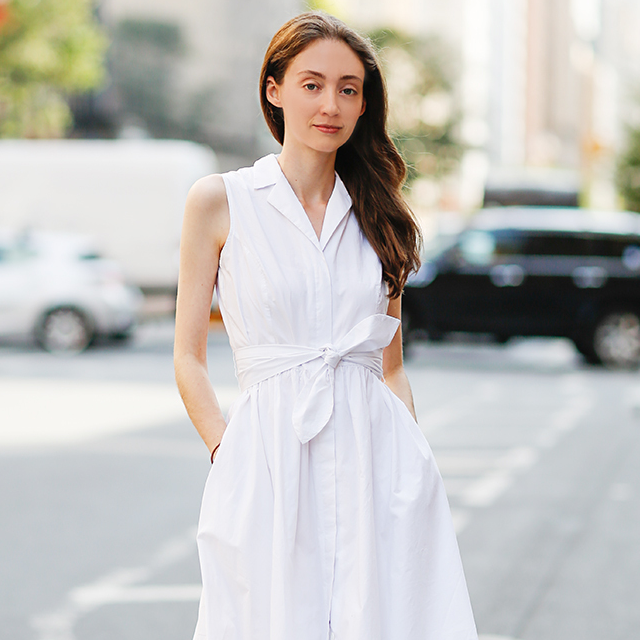 Naomi Rougeau is ELLE's senior fashion features editor.