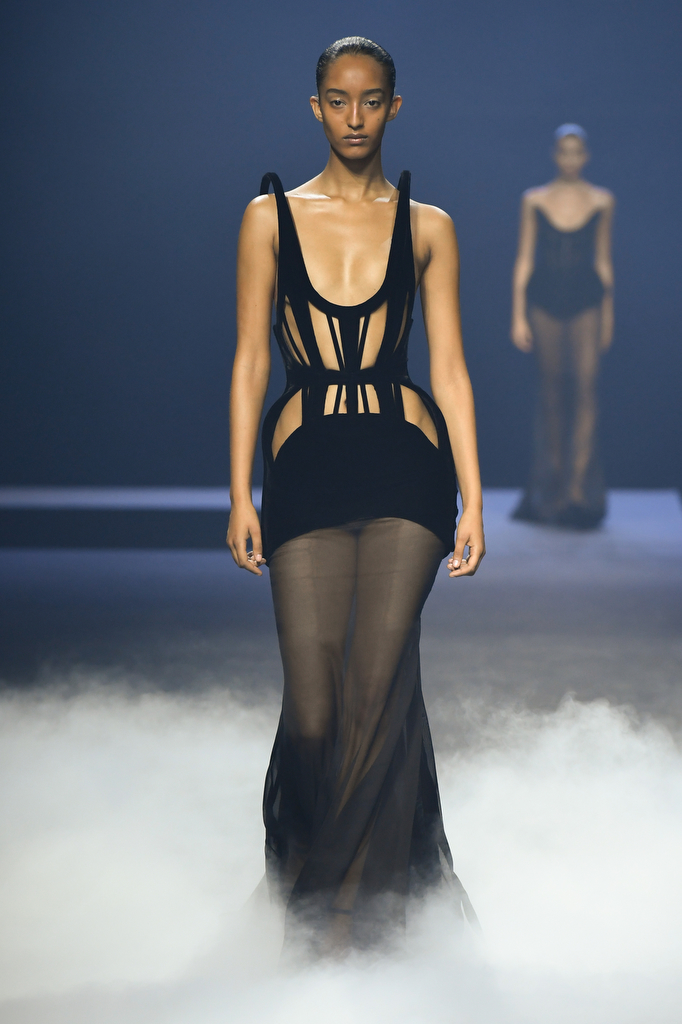 Mohammed Ashi made history on Thursday by becoming the first Saudi Arabian designer to show on the official calendar at Paris Couture Week.
It marked a new chapter for his Ashi Studio label, founded in 2007, which has dressed everyone from Beyoncé to Phoebe Waller-Bridge, who wore one of his creations last week to the London premiere of "Indiana Jones and the Dial of Destiny."
"The process is different, the thoughts are different, everything is different," Ashi said backstage at the Théâtre du Châtelet, where he presented the collection on a darkened stage shrouded in dry ice. "The pressure is on."
Basing the collection on Patrick Süskind's novel "Perfume: The Story of a Murderer," he set out to tell a story of "dark romance."
Monochrome velvet looks with graphic corsets owed a debt to Jean Paul Gaultier, but Ashi spun a more personal narrative with geometric gowns in shapes inspired by perfume bottles, which contrasted with wrap coats and trailing gowns in tactile fabrics like brushed mohair or cobwebby lace.
Defying stereotypes associated with the region, he bared skin with looks including an architectural black velvet gown that was carved open at the sides; filmy slips, and a shirred black dress with a cutout bodice that exposed the breasts.
Ashi Studio was not among the labels showcased this week as part of the "Saudi 100 Couture Showroom" organized by the Saudi Fashion Commission, but the designer said he was happy to see fellow brands come into the spotlight.
"I think I've opened the way and the country opened the way as well, so it's kind of a collab situation that is happening," he said.
Now that he has a bigger stage, Ashi needs to refine his point of difference. Looks like his blush pink silk tent gown, suspended on a chunky serpentine diamanté neckline, are sure to pop on the red carpet, but they don't yet bear the mark of a great designer.