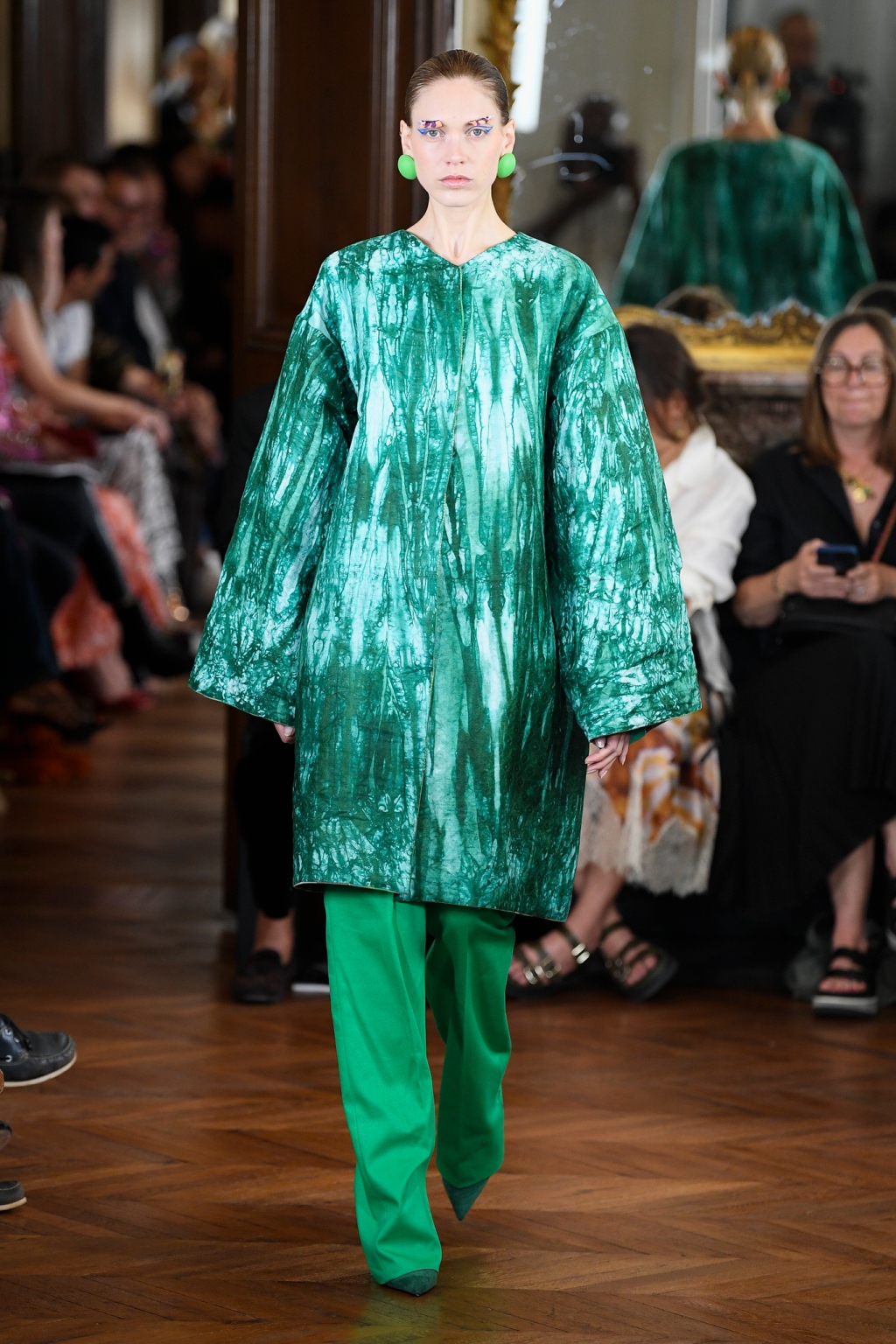 Beauty, whatever that means on a subjective level, is a universal human quest, Imane Ayissi mused when working on his fall collection. His starting point was Russian painter Paul Chmaroff's work, which he discovered in the Thierry Schneider collection. He was struck by the notion that despite not necessarily understanding it, he immediately appreciated its beauty. "I found the way he worked with light, with color, very interesting, his sensitivity to the people he portrays, and I found it really beautiful," he said backstage before the show.
He drew parallels with his own creative process; it all starts with a line, or a circle, on the page or canvas, he said. The Ewondo word for circle, "Mguilguidigueu-Mteun," gave the collection its name.
Circular motifs are a regular feature in Ayissi's designs, but here they took center stage, worked allover in ruffled rounds pulled together geometrically on a range of dress shapes or as decorative details highlighting the figure on tailored separates.
Further discs came in chain-mail-like tops made from pieces of Obom, the beaten bark of the aloe tree from which clothing was made in parts of Africa before the arrival of fabric, Ayissi explained.It's just one way in which he continued to bring African craft techniques to fashion's international podium.
Liquid bias-cut dresses and wide pants mingled with robe-like designs in vivid tones twisted with couture constructions, trailing with giant bows or trimmed with dramatic raffia details.
Reverence to nature was important, Ayissi said, and he sought to prioritize natural materials like silk and linen as well as sustainable bamboo viscose, Kenté and dyed bazin fabric, a type of damask. An adire dyed jacket in shades of green evoked an airy forest canopy looking down on the world below. "There's a sensitivity to nature, and the world, of Africa mixing with the world, and evolving with the world, because we can't evolve without Africa," Ayissi said.