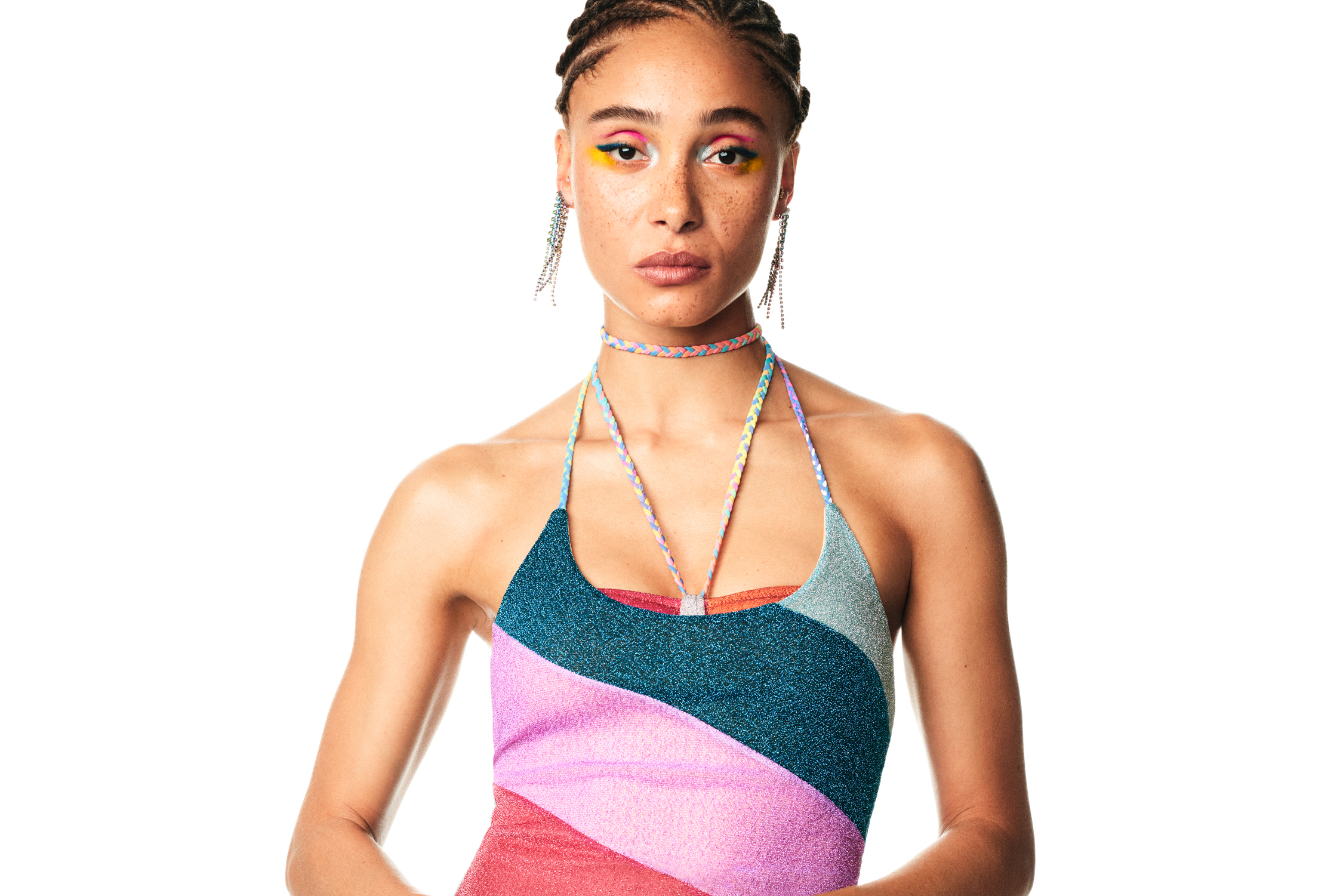 Catch all the latest news about footwear industry acquisitions, and licensing and distribution agreements here. Got a deal in the works? Tell us at web@footwearnews.com.
March 2, 2023: Kurt Geiger London is launching swimwear on April 1. The collection includes a sophisticated array of bikinis, one-piece swimsuits and beach cover ups, many of which feature the brand's signature Rainbow and Evil Eye motifs. There's also an exclusive preview access for Kurt Cares members only. Swimwear prices range from $59 to $199 in sizes XS through XL.
Feb. 27, 2023: Comfort footwear brand Aerosoles has signed a new licensing agreement with United Intimate Group for the distribution of women's sleepwear, robes and intimate apparel. Aerosoles, which was acquired by American Exchange Group in 2022, has been quickly expanding its scope by introducing new categories such as cold-weather accessories, slippers and socks, roller skates and girls' shoes. Its first sleepwear and intimates collections are scheduled to ship in November 2023 for the holiday season and will be available at leading retailers such as Nordstrom Rack, TJX and more. Retail price points will range from $20-$60. Aerosoles has previously expressed interest in broadening further into home, travel and apparel goods.
Feb. 17, 2023: OrthoLite has welcomed its 500th footwear brand partner. The company is now the official insole supplier is now partnering with 500 footwear brands worldwide, across all categories – athletic, running, comfort, golf, lifestyle and fashion. OrthoLite also noted that its products can be seen in over 550 million shoes per year from brands like Adidas, Altra, Asics, Brooks, Clarks, Cole Haan, Converse, Danner, Ecco, Fendi, Hoka, Hugo Boss, Justin, New Balance, On, Reebok, Rothy's, Salomon, Skechers, The North Face, Timberland, Toms, Under Armour and Vans. "On behalf of the global OrthoLite team, we want to say thank you to all of our brand partners for trusting us with their partnership," Glenn Barrett, founder and CEO of OrthoLite, said in a statement. "Consistently earning the trust of our brand partners means everything to us and our entire team is passionate about serving and problem solving for our customers." As for what's next, OrthoLite said in a statement that it "looks forward" to continued growth and industry leadership. On top of product innovation, the OrthoLite team is working on developing new standards of sustainability in footwear production, in zero-waste operations, and in materials.
Feb. 13, 2023: Rocky Brands Inc. has entered into a license agreement with Status Accessories
to design and distribute belts and wallets under the
Durango
and
Rocky Boots
brands. The first product line, Rocky Brands Inc. confirmed in a statement, will arrive at retail in March. The first collection, according to Rocky Brands Inc., will launch in winter '23 at specialty retailers, independent retailers and key accounts.
For the Durango brand, the accessories will include premium leather belts with stitching and details similar to footwear designs. And for Rocky Boots, the leather and nylon belts and wallets will include camouflage and material patterns from its collection of work and outdoor footwear.
Also, the
Rocky Boots accessories offering will include heavy-duty nylon belts and wallets that align with its tactical boot range.
Feb. 13, 2023: Ebay Inc. has acquired AI-based marketplace compliance tech company 3PM Shield LLC as the online retailer aims to enhance its counterfeit monitoring technology. Financial terms of the deal were not disclosed. According to Ebay, this acquisition "enhances" its ability to address suspicious or harmful seller behavior, and potentially problematic items that may be unsafe or illegal. "It is a top priority to help ensure that eBay remains a safe and trusted environment for our global community of sellers and buyers, particularly to prevent counterfeits and unsafe or illegal products," Zhi Zhou, chief risk officer at eBay, said in a statement. "3PM Shield has been a valued and effective external partner in helping eBay tackle these challenges and we look forward to unlocking additional capabilities as we bring their technologies in-house."
Feb. 6, 2023: Kate Spade New York has partnered with resale platform ThredUp to launch a program that allows shoppers to buy secondhand products from the Tapestry-owned brand via ThredUp's website. The program is powered by ThredUp's Resale-as-a-Service program, which enables brands and retailers to sell pre-worn items. "At Kate Spade New York, we are on a journey to driving progress by giving our products a second life and contributing to meaningful change," said Kate Spade New York CEO and Brand President, Liz Fraser in a statement.
Jan. 30, 2023: NFL star Tom Brady's namesake brand is now available at Dick's Sporting Goods. Brady assortment includes products such as the Brady pant, All Day Comfort Joggers, underwear, performance t-shirts, long sleeves and Zero Weight shorts. In addition to being available online, consumers can shop the label at all three Dick's House of Sport locations in Rochester, New York, Minnetonka, Minnesota, and Knoxville, Tennessee. "As we continue to grow, we are excited to expand our online and in-store retail distribution at one of the world's largest sports retail stores," Jens Grede, CEO and Co-Founder of Brady, said in a statement. "Our displays at Dick's Sporting Goods House of Sport locations will provide consumers with an immersive Brady experience featuring key styles and some of Tom Brady's personal memorabilia."
Jan. 30, 2022: Resale platform StockX has opened its 14th authentication center — and its first in Mexico. The new facility is meant to help local customers get access to faster shipping, more products and quicker payouts. "The launch of this new authentication center in Mexico signifies our commitment to providing a safe and secure experience to our buyers and sellers around the world," said Greg Schwartz, co-founder and COO at StockX.
Jan. 24, 2023: Omnichannel digital commerce agency Blue Wheel and e-commerce marketplace agency Retail Bloom have merged to form a joint venture Blue Wheel, an omnichannel digital commerce agency. With financial backing from Chicago-based private equity group Longshore Capital Partners, Blue Wheel, according to a statement, now has more than $1 billion in e-commerce revenue under management across its clients. What's more, the company stated it will focus on hiring in the Detroit area to fuel growth, while maintaining its team across 15 states, which includes a satellite outpost and creative studio in New York City.
Jan. 20, 2023: Brazilian sandal giant Grendene has formed a joint venture with independent investment company 3G Radar to accelerate growth for its portfolio of footwear brands. The new entity, Grendene Global Brands, will draw on 3G Radar's business management expertise and Grendene's manufacturing capabilities, and handle the production and operations of eight staple brands: Melissa and Mini Melissa, Ipanema, Rider, Cartago, Zaxy, Grendha and Pega Forte. The joint venture is overseen by CEO Gustavo Assumpcao, whose background includes serving as president of AB Inbev, Mexico, plus 16 years of experience at Anheuser Busch working across revenue management, sales operations, trade marketing and innovation. Among GGB's overarching goals, it aims to expand and strengthen digital and DTC capabilities, increase the relevance and proximity of the brands to consumers, and rebuild each brand's infrastructure and basic operating processes, including marketing.
Jan. 13, 2023: Vancouver, British Columbia-based brand Grounded People Apparel Inc. has received a $2.5 million investment from Vancouver-based Right Season Investments Corp. Grounded People strives to be a fair wage and sustainable vegan shoe company. Its first products launched in the fourth quarter of 2021 and include high-top and low-top sneakers made from sustainable, ethically sourced materials, manufactured by fair-trade workers in a 100% vegan factory in Brazil. "Grounded People has come a long way since our founding in 2020, and this investment will enable us to grow our team further, expand our retail and online presence, target international markets and continue building a robust product portfolio that simply and cost-effectively protects our customers and the planet on which we reside," said Grounded People CEO and co-founder Maximilian Justus in a statement.
Jan. 12, 2023: Oofos and fitness company Exos have entered into a partnership, a two-year agreement that will run through 2024. With the deal, Oofos said in a statement that it will become the exclusive recovery footwear provider to Exos coaches and participating athletes, and will also be part of the company's 2023 NFL combine training program that is hosted at Exos' Athlete Performance Institutes. The mission of the partnership, according to Oofos, is to "elevate human performance through personalized support." With this partnership, Oofos said Exos "is the next momentous step" in bringing its OOfoam impact-absorbing technology to a broader audience. Also, Oofos said it will provide products for the Exos facilities staff and athletes, as well as an opportunity for clients to purchase "as part of their Exos-recommended recovery toolkit."
Jan. 10, 2023: Emerald, the parent company to Outdoor Retailer, has announced the acquisition of Lodestone Events, a consumer event company that produces the Overland Expo series. Lodestone already partners with Outdoor Retailer on Outdoor Adventure X, Emerald's first outdoor consumer event. As part of the deal, Lodestone employees will join Emerald and its founders, Lindsay Hubley and Jessica Kirchner, will join the Emerald management team and continue to lead the Overland Expo series and Outdoor Adventure X.
Jan. 05, 2023: Volumental, the footwear technology company focused on helping people get a perfect fit, is launching a self-service version of its size-testing AI product in certain retailers in 2023, following a beta test with Under Armour. This product, which builds upon Volumental's existing technology for size-testing, allows customers in stores to use the machine themselves instead of working with a store associate. "Our new self-service scanners will bring the same technology that specialty footwear retailers have enjoyed to many more retail segments," said Alper Aydemir, CEO of Volumental.